Wacky Wet World History
On 21st July 1997 Wacky Wet World was launched onto the unsuspecting World Wide Web as a satirical website about proposed Internet censorship. Back then adult websites had to display a big warning sign on their front page to stop people unwittingly seeing something they shouldn't.
Being law abiding webmasters we put a sign up to warn visitors of the photos on this site. The search engines went completely ape about the keywords in this message. See below.
The Communications Decency Act of 1996 (CDA) was an attempt by the United States Congress to regulate adult material on the Internet. In 1997, in the landmark cyberlaw case of Reno v. ACLU, the United States Supreme Court removed the anti-indecency provisions of the Act.
What remained was for the most part Section 230 of the act which has been interpreted to say that operators of Internet services are not to be construed as publishers, and thus not legally liable for the words of third parties who use their services.
Big Numbers
The keywords in the warning label pushed us high up in the search engine ranking and we soon saw over 100,000 unique visitors a month. Amazing! It was a deluge. We didn't expect that.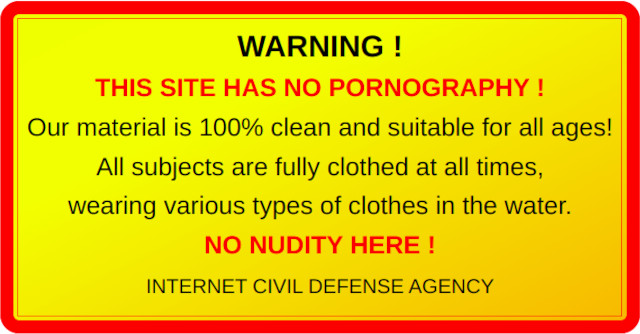 Wet Social Media
Our ISP gave us free hosting in return for being allowed to test new technologies. We got the forums that we still have today, way ahead of the times. Wacky Wet World was one of the first social media platforms where people could meet, make friends, and swap wet ideas.
"I thought I was the only one!"
We got many emails from people who thought they were the only one into wet clothes. It was a great relief to them that there were others into this wet trend sport.
In America and Canada readers organised themselves into local chapters to go swimming or just get wet together. The highlight was in 1999 when we had our first international meeting in Key West, Florida.
Google Ad Ban
In 2005 we registered with Google Adwords to raise some funds for our further expansion. That worked alright for a while as we also had adverts in the forums. Then Google decided not advertise with us. They said our content was too diverse to focus the adverts, mainly due to what readers were talking about in the forums. What ads would you show on a story about someone swimming in jeans and hoodie, or relaxing fully clothed in the bath tub? Washing powder?

Major Expansion
The ad ban and ever increasing content triggered our expansion into several wetsites (see links below). We could still run ads on the editorial of those wetsites, just not on Wacky Wet World. It was more predictable for them.
Stupid Interference
2008 was a difficult year for us. Several big organisations saw our expansion as a threat to their business. Even a charity got stroppy with us. However, the legal team of our ISP blasted them out of the water so we could continue.
Wacky Wet World Today
Today we have over 200 pages of editorial on this wetsite. We even inspired an aquatic lifesaving charity to get started in Hong Kong in 2009 (freelifesavers.com), now operating worldwide.
Now we're ready to soak the future.