Boracay in the Philippines
Boracay is a small island in the Philippines located approximately 315 km (196 mi) south of Manila and 2 km off the northwest tip of Panay Island in the Western Visayas region of the Philippines.
Boracay's beaches have received awards from numerous travel publications and agencies. The island comprises the barangays of Manoc-Manoc, Balabag, and Yapak in the municipality of Malay, in Aklan Province.
The island is run by the Philippine Tourism Authority and the provincial government of Aklan. Apart from its white sand beaches, Boracay is also famous for being one of the world's top destinations for relaxation. It is also emerging among the top destinations for tranquility and nightlife.
In 2012, Boracay was awarded as the best island in the world from the international travel magazine Travel + Leisure.

Boracay Sailing Trips
Enjoy exclusive Boracay Island hopping tours. Exclusive means, it's just you and the people you're with on board. With a friendly crew on a small but fast boat it has all it takes to make your Boracay Island hopping day.
You can rent a sailboat to go island hopping. The outrigger sailboats you can rent or charter, are called Paraw. It takes at the minimum three people to sail them. The balance has to be kept, so the guys on the outriggers far end, are called "balancers". They often get wet as part of their job.
Island hopping also means you keep away from commercial areas, serving mass tourism. Go to the quiet side of Boracay's surrounding small islands, enjoy beautiful nature, meet the local sailors who show you around, see Boracay from a completely different point of view. From the sailing boats and the beautiful beaches you can go for a swim.
Getting in and out of the boat may involve wading into the water. This is always a opportunity for a refreshing dip to get your clothes wet and stay cool on the trip. Clothes provide better sun protection than toxic lotions than could damage marine life.

Local sailors can take you to remote beaches on their sailboats. Wet clothes keep the crew cool.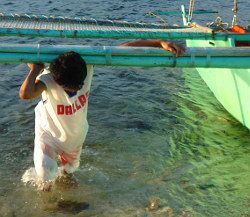 The crew always jumps into the water to push the boat ashore.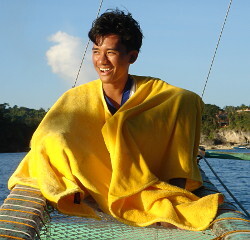 Sun protection cape
Swimming
The beautiful beaches with clear blue water and white sands invite you for a relaxed swim.
Please note that sand and water reflect the intense tropical sun light, so cover up when you go swimming as sun lotion washes off. Many locals swim in their clothes, so we recommend you do likewise.
Quick-drying clothes are best for sun protection. Lycra swim clothes are easy to swim in, but can be a bit hot. Breathable anoraks are fine too. Poncho capes provide better ventilation.
Our sailors enjoyed the loose fitting sun ponchos a lot. They are fun to swim in, and provide good cover and ventilation.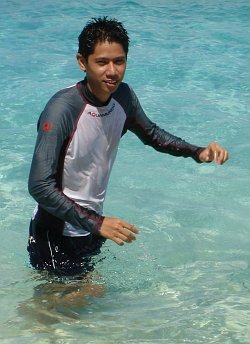 Swimshirt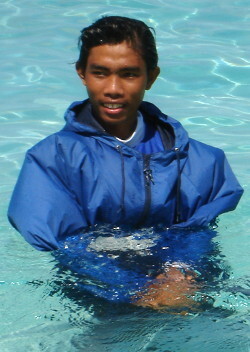 Sun anorak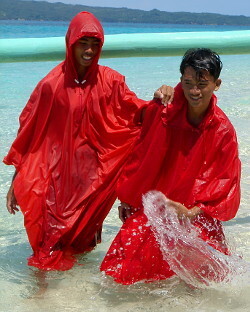 Sun protection capes