Lifeguard Rookies
This waterpark has a lifeguard rookie programme that lets teens of 16 y/o and above learn how to be a lifeguard. This helped with recruiting of talented staff once they are 18. Another advantage of this programme is that it took care of troublesome teens, who often have above average intelligence, but are bored.
Uniform
Rookie lifeguards didn't have the full uniform set, but wore yellow jogging suits for all tasks, unlike the red and yellow of the regular lifeguards. That way we could easily spot where they were and keep an eye on them.
Rookie Training
Did lifeguard rookies ever get wet? No, never... well, actually quite often. We made sure of that. Andy wanted us to pace them, never a dull moment. Often they had to go into the water fully clothed to learn constant readiness. The rookies knew what to expect, otherwise they would not have joined this programme.

Rookie Lifeguard Rafe (16)
After I had worked at the water park for a few weeks I was assigned a rookie named Rafe to teach and have me shadow my work around the various pools. He was relatively small and looked young for a 16 y/o boy. I had seen him in the park before, cheerful kid, but full of mischief. My job was to tame him and make a lifeguard out of him.
Swim Test
His first task was to pass the swim test. He arrived in the morning and changed into his uniform, the yellow jogging suit over shorts and tee.
After a brief chat I told him about the swim test and asked him to take the mandatory newbie shower before the swim test. He got a bit confused, pulling on to his uniform.
"Shall I take my clothes off for the shower?" he asked.
"No, you always wear your uniform when on duty, on poolside, in the water, or in the shower," I replied.
"Really?" he said with a big grin and went under the shower, enjoying how the warm water soaked into his clothes. Once he was all wet, I took him to the pool and made swim a few lengths. His front crawl was inefficient, so that would need more training.
After his swim test we walked around the park for a while so he could see how we work. However, the purpose was to assess how he would cope walking around in wet clothes for a while, like he will have to do on lifeguard duty. He was cool with all that. On his earlier park visits he usually wore jeans and hoodies.
During our tea break we had a shower to rinse our uniforms and changed into dry hooded jogging suits meant for sun protection. He looked happy in the dry clothes. On the way to our next post we came past the main pool where Pierre and his gang were splashing around. I got some jealous looks from him when he saw my rookie lifeguard in tow.

Water Slide
We walked to the water slides and watched how Henry handled the splash down zone. It was total mayhem. Lifeguards often got splashed by the sliders.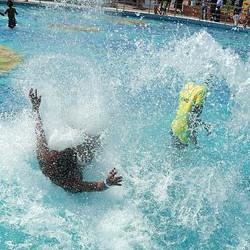 "Ingo is late for shift rotation," said Henry as he came out of the pool. "Can you take over from me until he arrives?"
"Sure, of course." I asked Rafe to follow me into the splash pool. He hesitated because he had just changed into dry clothes.
"Come on," I said. "Whenever you get asked by staff or guests to go into the water, you go in, jogging suit and all. We're needed here, so follow me into the pool."
I waded into waist deep water in my jogging suit. Rafe followed me closely and watched how I helped the sliders in the splash zone. He was a bit shorter than me, so the water was chest deep for him. Soon he relaxed and enjoyed wearing his uniform in the pool.
Over time Rafe adapted well to life in the waterpark. He no longer hesitated when he had to go into the water, but enjoyed a refreshing dip to cool off in the hot weather. During staff training he improved his swimming skills a lot. He brought a variety of clothes to learn how to swim in them. After work he usually changed into his jeans, tee and hoodie, and went for a swim in the waterpark with his friends.