Swimming Coach
Teaching survival skills is important, but often neglected by leisure centres or swimming clubs

. Yet this skill may save your life one day.
Part Time
Most survival swimming teachers work part time, usually a few hours per week. Flexibility is required to meet the needs of this business. Typical lessons take place after school or on weekends. If swimming is your thing but you want more variety, survival swimming could be for you.
Objectives
Promote survival swimming in the pools and in the local area to increase member numbers. Develop creative and innovative classes following the survival swimming programme of the Free Lifesavers. Deliver great customer service by providing personal attention and care to all swimmers.

Realism
Realistic scenarios give the experience required to survive on or in water. All participants and teachers swim fully clothed to make it more interesting. As teacher you lead by example and demonstrate how different clothes influence your swimming ability. Then your class learns how to cope by ongoing practice in a variety of outfits.
Fun Lessons
Survival swimming lessons are fun for both students and teacher, as they are much more varied than swimming up and down all the time. Lessons include swimming in clothes, inflatable boats, rescue ropes and other accessories to enhance the training. Ongoing training for advanced survival swimmers includes resistance swimming, endurance training and boat handling.

Training Format
Teaching is done in both group and individual lessons. Swimming lessons should be conducted in a safe environment supervised by lifeguards, especially when swimming in clothes. Follow your swimming schedules and deliver all the lessons to the highest standard. Assess progress and recommend for class advancement when ready. See FreeLifesavingSociety.com for details.
Beginners
During theory training explore water safety and what swimming strokes work best in various situations. Explain how different types of clothing affect their swimming abilities and how to cope with this.
Then hop into the pool, dressed in minimal swimwear (T-shirts and shorts) and practice the various swimming strokes. This is a good time to assess the swimming skills in your class and make some improvements. A bad swimming skill will slow them down later in the course.
Round it up with a preview of the Intermediate lesson where they can put on extra clothes. This is usually a lot of fun. Swimming in different kit teaches how to wear it safely in the water. Explain which swim strokes work best when swimming fully clothed.

Intermediate
The theory includes an overview of various rescue techniques. Explain rope throwing and rescue tows.
Then go into the pool fully clothed, with jeans and hoodies over shorts and sports shirts or pullovers. This simulates a situation where the may fall into the water, or go for a swim on an adventure trek.
Practice a variety self rescue skills, including what to do when you break into ice. Show ways to rescue others, using, stick, floats, or clothes as towing tool.
Swimming 300 meters, push-ups and sit-ups on poolside, and a lot of climbing out and jumping in is all part of the fun. Finally round off the lesson with a few pool games to get used to swimming fully clothed.
Advanced
This part is all about adventure trekking and how to stay safe in the water. A variety of outdoor skills and hiking outfits get explored during the theory session before they go into the water.
Pool practice involves swimming in different adventure clothes, including rain suits and ponchos. This can be exhausting as it involves getting out and changing into different kit a few times. Rain clothes also cause more drag when swimming, especially ponchos.
Teach how to pack a waterproof rucksack with the dry essentials, while swimming in all the clothes that can get wet or dry quickly. The trick is to keep the bag's inside dry while they swim 100 meters.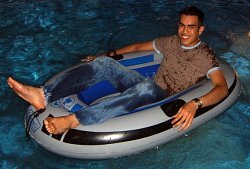 Finally you teach how to handle boats, capsize, and climb in again.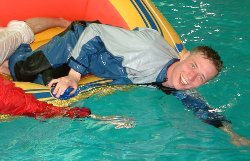 This is quite exhausting in the heavy waterlogged clothes, but huge fun.
Daily Classes at Leisure Centre
Emailed by Ronan from Ireland
As a swimming teacher, lifeguard, and wetlook photo model I was looking for new job opportunities within the aquatic sports sector that allowed for more creativity, working in an exciting environment. I enjoy swimming in clothes as a fun sport to keep me really fit. Finally I found a place with a leisure company to teach survival swimming, one of my favourite activities.
Realistic Survival Swimming Lessons
Most swimming lessons are done fully clothed, both teacher and class. Students are given a chance to try out a wide variety of clothes. This is great fun as I have to demonstrate it all myself first in the pool, like the many survival skills and swim strokes, or how different clothes affect swimming ability.
Daily Routine
Usually I arrive about two hours before the first lesson to do my own swim training. Depending on the endurance or resistance swim training required I wear different layers of clothes.
My usual swimming clothes are a sports shirt and running tights under an unlined nylon rainwear, tracksuit or jogging suit. For my first one hour swim of the day I prefer jeans, polo shirt or pullover and a hoodie, which dry out before I go home. Often one of the lifeguards joins me in a jogging suit.

Ready for Lessons
Every day I run three or four lessons in groups or one-on-one, supervised by the lifeguards. For work I wear T-shirt and shorts under a loose fitting nylon suit or tracksuit. This this feels good on dryside and in the pool.
Now I'm ready for my class which is often quite intense. I have to go in and out of the water a lot to teach them all the essential skills and show them until they can do them too.
After each class I have a break with healthy food and change into dry clothes for the next lesson. In the evening the drying room is full of wet clothes, but they are dry the by next day.
Some evenings canoeing or scuba clubs come to practice in the pool. I then get dressed in my canoeing clothes and join them in the water.
After work my colleagues and I change into dry jogging suits. Often we push each other into the pool one more time, play around a while just for fun, and then go home in wet clothes. Great way to relax after a long day.